This is about the Lily Potter from the Rose Weasley Chronicles by Cathylove. For Cannon information, go here.
Lily "Lils" Luna Potter is the daughter of Harry and Ginny Potter, and Rose Weasley's cousin.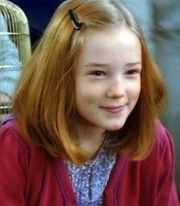 Lily is nine years old and wants to got to Hogwarts desparatley. She is very close to her cousin
Hugo Weasley
and is good friends with
Lysander Scamander
, who is the same age.