This is about the Lily Potter from the Rose Weasley Chronicles by Cathylove. For Cannon information, go here.
Lily "Lils" Luna Potter is the daughter of Harry and Ginny Potter, and Rose Weasley's cousin.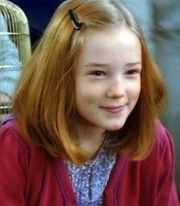 Lily is nine years old and wants to got to Hogwarts desparatley. She is very close to her cousin
Hugo Weasley
and is good friends with
Lysander Scamander
, who is the same age.
Ad blocker interference detected!
Wikia is a free-to-use site that makes money from advertising. We have a modified experience for viewers using ad blockers

Wikia is not accessible if you've made further modifications. Remove the custom ad blocker rule(s) and the page will load as expected.